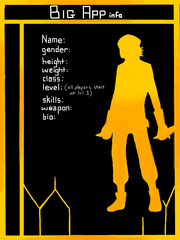 1. You must fill out a
Mini App
- then a
Big app
in order to participate in The World TegakiE online group.
2. The Cobalt Knights are run by Demi and will continue to do so until more active users are present.
3. Message us on one of our Tegaki Entries once is we missed your application.
4. If you have a character design that you're not sure about, or if you're confused about what class has what moves, please refer to .hack Wiki for any questions.
5. No characters are allowed to be complete carbon copies of the main characters from the game or from the anime.
6.There will be no characters who have the ability to Data Drain unless granted permission by a mod.
7. Do not spam this Wiki with pm's about your application being accepted or denied. There will always be a reason as to why a character was denied (Ie not enough info, made up class, etc etc).
8. Your character will be added to the Who's Online listing, but, will be removed if you are inactive over a period of time.
9. Do not post entries in the Crack, App, or Main tags about your application. One entry is enough.
10. Three Characters per person, with only one being allowed to be an A.I.
11. Rules are subject to change