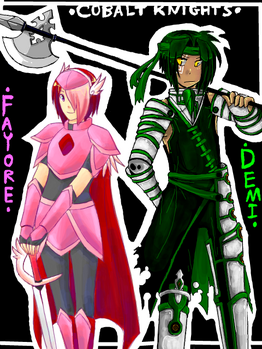 The Cobalt Knights. A group of users led by a system administrator to hunt down A.I's, Hackers, and Bugs within THE WORLD. Using the WOTAN SPEAR to delete rule breakers and the like, they clean up the world and keep it functioning properly.
Deleteable things:
Knights are not allowed to ban players for selfish reasons or whims, they will be beaten, fired, and banned from the world if Demi or Fayore find out. So, corrupt knights, stay on your toes.
Although they both work to protect the server, the Azure knights and the Cobalt knights do not work together. Since the Azure knights are A.I, the Cobalt knights would try to delete them like any other A.I.
How to apply
Edit
You can become a Cobalt knight by making an entry asking one of the admins, such as Demi, or If you want to make a character for the sake of being a knight, make sure to talk to a Group Moderater first. Demi will be more likely to accept you if you have experience in the group and havent gotten in trouble with him.
-Cobalt Knights-
Head Knight - Demi
Second in Command - Fayore

To all knights: IF YOU ARE NOT ACTIVE ON THE WORLD YOU WILL BE REMOVED FROM THE KNIGHTS. Thank you.